3 Seater Airport Chair - Your Premier Airport Waiting Chair Supplier is Here
Are you in search of the perfect seating solution for airports, transit hubs, or public waiting areas? Look no further than Foshan Winner Furniture Co., Ltd., your trusted partner in airport waiting chairs and public seating solutions. With over 15 years of manufacturing expertise, a sprawling factory spanning 50,000 square meters, and a global presence serving 520 hospitals worldwide, we stand out as the industry leader in providing top-notch airport waiting chairs and bench seating.
Our 3 seater airport chair is the perfect seating solution for any busy airport terminal or waiting area. With a sleek and modern design, this chair will fit seamlessly into any decor.
One of the main advantages of our 3 seater airport chair is its durability. Made with high-quality materials, this chair is built to withstand the constant use and wear and tear of a busy airport environment. It is also easy to clean and maintain, making it a practical choice for any facility.
In addition to its durability, our 3 seater airport chair is also incredibly comfortable. The padded seats and backrests provide ample support and cushioning for passengers, ensuring that they can relax and rest while they wait for their flights.
Another advantage of our 3 seater airport chair is its versatility. It can be easily rearranged to fit a variety of different space configurations, making it a convenient and flexible choice for any airport terminal.
Overall, our 3 seater airport chair is the perfect combination of style, durability, comfort, and versatility. It is sure to be a hit with both airport staff and passengers alike.
Welcome to Choose the Best Airport Waiting Chair Supplier!
Winner furniture is committed to providing professional overall solutions for all kinds of public spaces. The enterprise has product lines such as public space waiting chairs, auditorium chairs, cinema chairs, desks and chairs, office sofas and chairs, and medical furniture. Experience the perfect blend of comfort, style, durability, and reliability. Elevate your public spaces with our exceptional airport chairs. If you are interested in our Waiting Chairs, please contact us!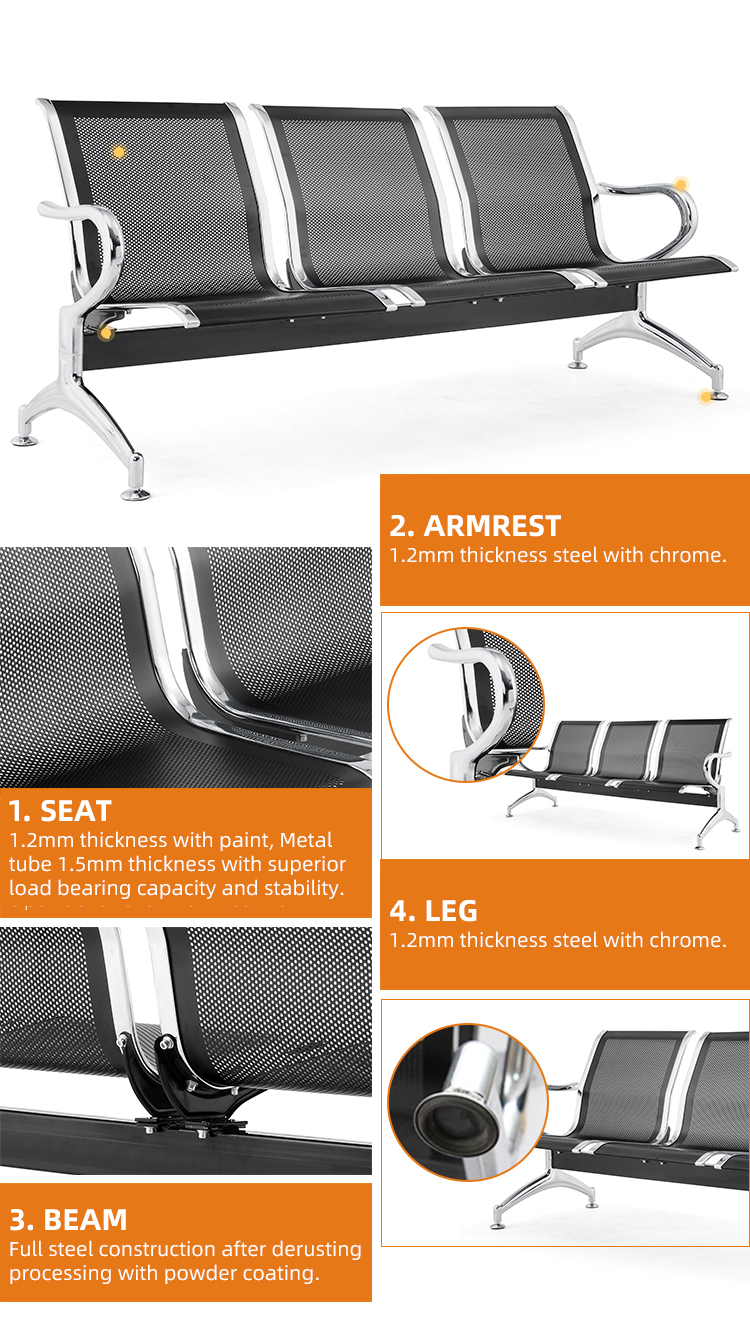 Specific Use: Waiting Chair
General Use: Commercial Furniture, Commercial Furniture
Mail packing: N
Material: metal
Folded: No
Metal Type: Iron
Place of Origin: Guangdong, China
Brand Name: Winner furniture
Model Number: W9601
Product name: Airport Waiting Chair
Description: Gang chair
Main Material: Matal
Cushion: PVC/PU/LEATHER/FABRIC
Warranty: 1 year
Cetificate: IS09001
Arm&Leg: Chrome Plating
Business Type: Manufacturer and exporter