Description
Airport chairs, also known as waiting room chairs, are designed for use in public spaces such as airports, train stations, and other transportation hubs. These chairs are typically designed to be comfortable and functional, while also being durable enough to withstand heavy use.
Our 4 Seater Airport Chair is the perfect solution for busy airports, train stations, and bus terminals looking to provide comfortable seating for travelers. With its sleek design and durable construction, this chair can withstand the rigors of high-traffic areas while still providing a comfortable and inviting seating experience.
Featuring a modern and stylish design, the 4 Seater Airport Chair has four spacious seats and sturdy armrests. The backrest is designed to provide optimal lumbar support and reduce fatigue during long periods of sitting. The chair's sturdy steel frame ensures that it can withstand the wear and tear of constant use, while the non-slip feet keep it securely in place.
Easy to clean and maintain, the 4 Seater Airport Chair is a reliable and cost-effective seating solution for any transportation hub. Whether you need seating for a small waiting area or a large terminal, this chair is sure to meet your needs. So why wait? Upgrade your transportation hub with our 4 Seater Airport Chair today!
Winner furniture is specializing in the production of the airport chair, auditorium chair, cinema chair, office sofa, school furniture, the domestic well-known brands of public seating. If you are interested our products, please contact us!
Features
1. Comfortable seating: Airport chairs are usually designed with comfort in mind, featuring padded seats and backs to provide a comfortable place to sit for extended periods of time.
2. Durable construction: Airport chairs are built to withstand heavy use and are typically made of durable materials such as metal or plastic.
3. Easy to clean: Many airport chairs have smooth, easy-to-clean surfaces, making them ideal for use in public spaces where hygiene is important.
4. Compact size: Airport chairs are typically designed to be space-efficient, with a compact size that allows them to be easily placed in a variety of settings.
5. Multiple seating options: Some airport chairs come in configurations with multiple seating options, such as armrests or footrests, to provide additional comfort for users.
6. Ergonomic design: Some airport chairs are designed with ergonomics in mind, featuring contoured seats and backs to support the natural curvature of the spine and reduce fatigue.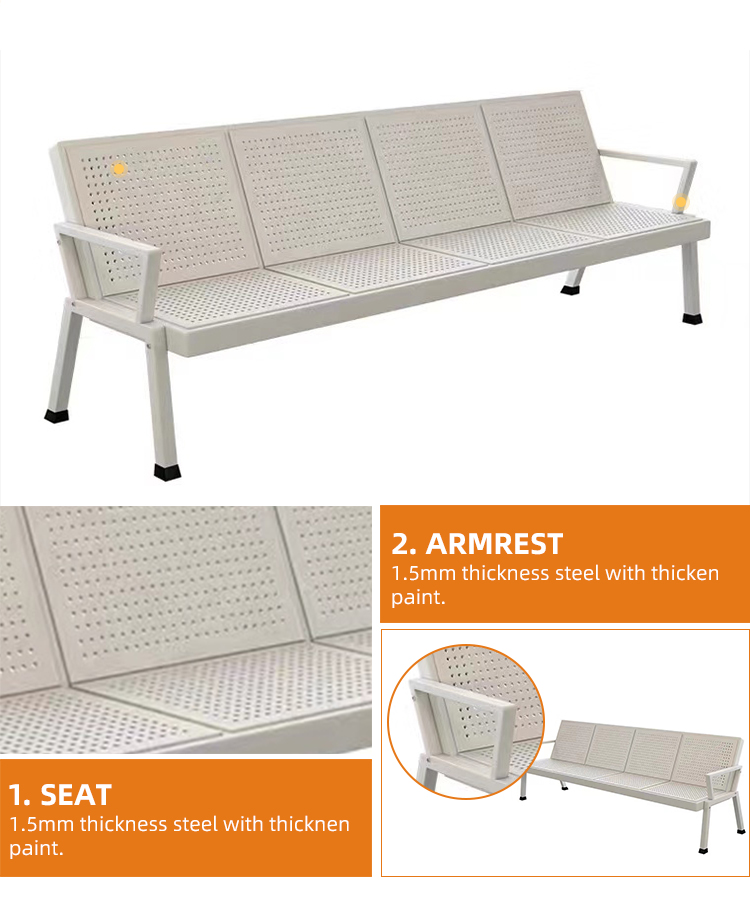 Specific Use:Waiting Chair, Airport Hospital Office
General Use:Commercial Furniture, commercial furniture
Mail packing:N
Application:Outdoor, Hospital, Hall
Design Style:other
Material:metal
Folded:No
Metal Type:Iron
Place of Origin:Guangdong, China
Brand Name:WINNER FURNITURE
Model Number:W9807
Description:waiting chair/ bench chair/public chair
Warranty:3 year
Product Name:Airport Hospital Office
Color:as customer's request
Function:Hospital Etc
Type:Hospital Funiture