Elevate Public Seating with Winner Furniture's Modern and Durable Solutions
Winner Furniture offers a contemporary and robust seating solution designed to meet the demands of high-traffic public spaces. Whether you need seating for transportation hubs, government centers, medical lobbies, professional offices, or school settings, our seats are the ideal choice for efficient and stylish public seating.
Key Features and Durability
Sturdy Construction
Our seats are constructed with precision and durability in mind. The seat arms and legs are crafted from 1.2mm chrome-plated steel, ensuring stability and longevity even in heavily frequented areas.
Resilient Seat Back
The seat back is made from 1.5mm sticky steel with a powder coating, providing both strength and resistance to wear and tear. This ensures that our seats maintain their structural integrity and appearance, even with continuous use.
Comfortable PVC Seat Cushion
For added comfort, our seats feature a PVC seat cushion made from 1.5mm sticky square tube, also powder-coated. The cushion provides a comfortable seating experience for users while remaining durable and easy to maintain.
Designed for High-Traffic Areas
Winner Furniture's seats are built to withstand the rigors of busy public areas. Whether it's a bustling transportation hub or a bustling medical lobby, our seating solutions excel in providing comfort and durability where it matters most.
Anti-Rust Guarantee
We understand the importance of long-lasting aesthetics. That's why our seats come with anti-rust elements, ensuring that they maintain their pristine appearance for years to come. You can count on our seats to look good and perform well, even in challenging environments.
Winner Furniture: Your Commercial Waiting Chair Solution in China
Foshan Winner Furniture Co., Ltd. is your go-to supplier for commercial waiting chairs in China. With a commitment to quality and durability, we provide seating solutions that enhance the comfort and aesthetics of public spaces. Our range of seating options is designed to meet the diverse needs of various industries, from transportation to healthcare and beyond.
Invest in Winner Furniture's commercial waiting chairs and experience the difference in public seating solutions. Our products are engineered to combine modern design with durability, making them the perfect choice for your high-traffic spaces. Choose Winner Furniture for seating that stands the test of time and the demands of the public.
Upgrade your public seating today with Winner Furniture, your trusted partner for commercial waiting chair solutions in China. Contact us now.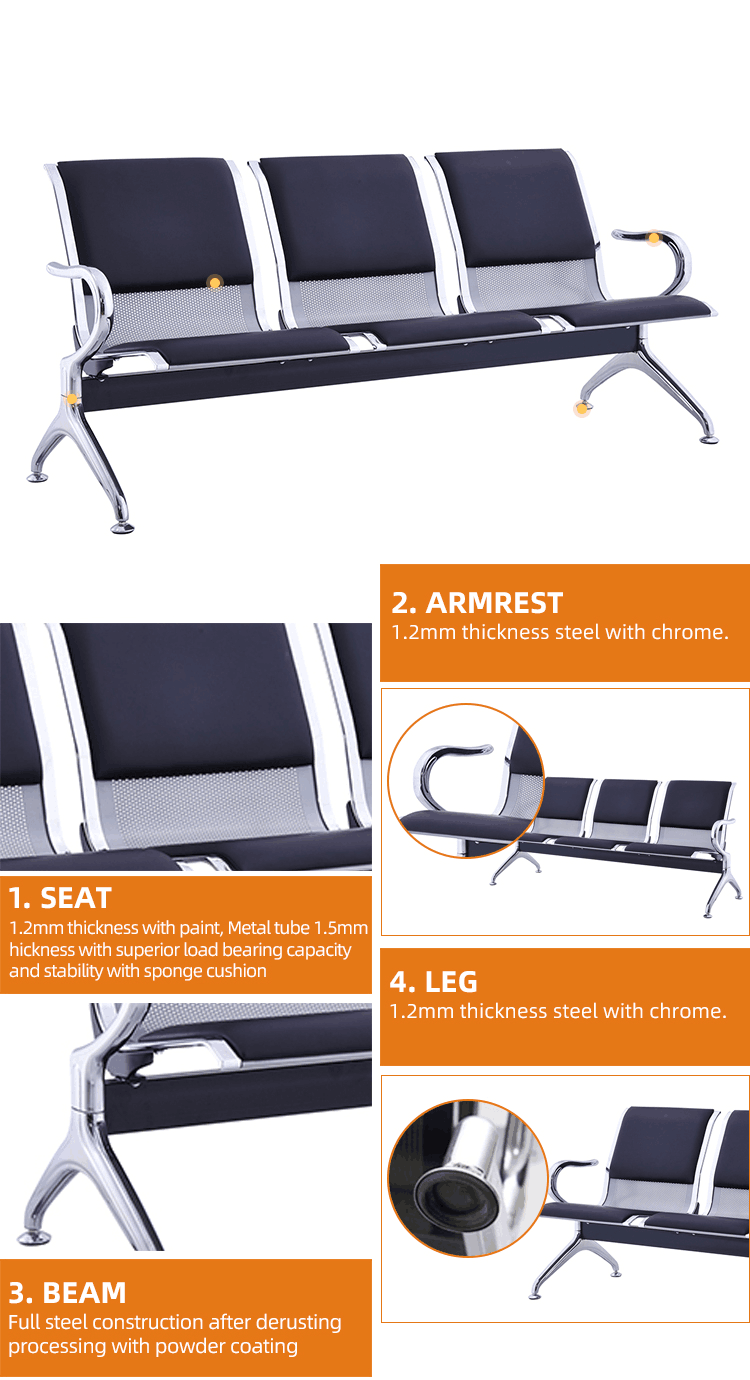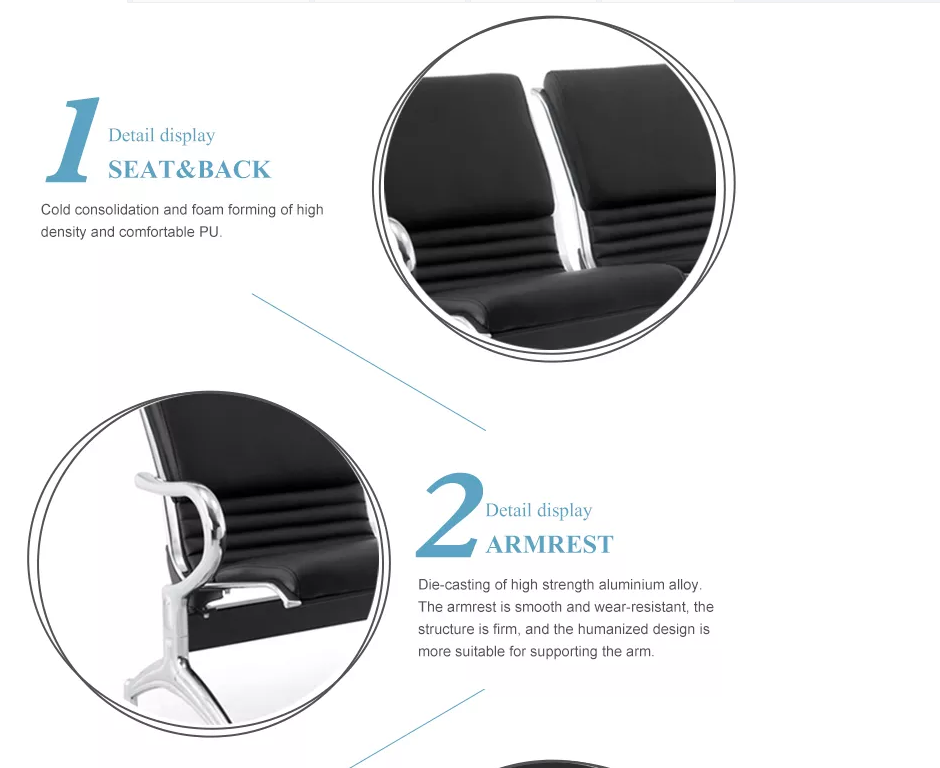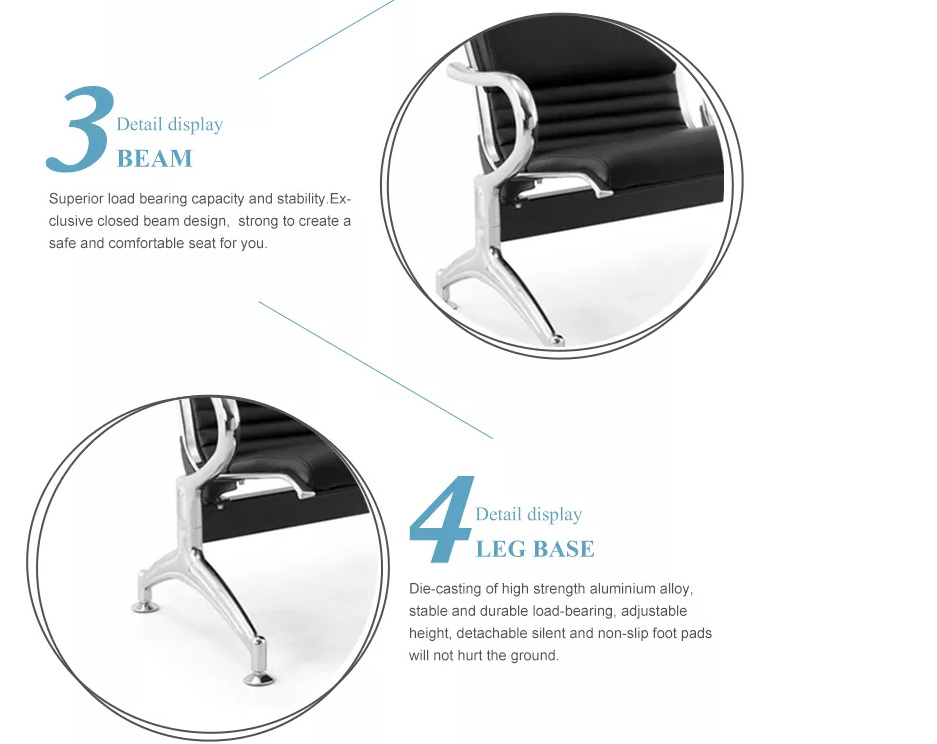 ITEM NO.
W9601C-3
N.W.
28KG
SIZE

1 seat: 62*65*75

2 seat: 118*65*75

3 seat: 175*65*75

4 seat: 232*65*75

5 seat: 289*65*75

G.W.
30KG
Color
OPTIONAL
CBM
0.16
Material
Arm & Leg: 1.2mm stickness steel with chrome;
Back and seat: 1.5mm stickness steel with powder coating, PVC cushion;
Beam: 1.5mm stickness square tube with powder coating
Package
3 standard export carton